Turnkey supply of automated Chemical Cleaning Plants to Aero Engine MRO
Galvatek supplies automated chemical cleaning lines to the aviation industry. Chemical cleaning lines have been the premier plant type in our portfolio for decades. Extensive experience has taught us customer needs and processes. Design and engineering know-how allow us to combine forces with our clients to build chemical cleaning plants that exceed their expectations. Experience means that Galvatek chemical cleaning plants are optimized and in effective operation from day one.
1-, 3-, or 4-step cleaning.
Typical chemical cleaning processes
Chemical cleaning is a series of processes and aggressive chemicals to remove any deposit from the component surface prior to inspection, assembly or other processes. Chemical cleaning of aero engine parts is an essential part of the engine overhaul process. Successful cleaning process is needed before non-destructive testing and preparation for other MRO work. Typical chemical processes include alkaline cleaning and rust removal, light or heavy oxide and scale removal and steam cleaning.
Mil-spec cleaning processes
John Cockerill´s chemical cleaning lines are used in maintenance, repair and overhaul operations for aircraft and helicopters. Military turbofan engines, turboprop engines and APU/AMAD auxiliary power units are typically dismantled and cleaned during scheduled maintenance. John Cockerill´s chemical cleaning plants can be tailored to handle the biggest commercial jet engines, fighter jet engines or the smallest auxiliary power units.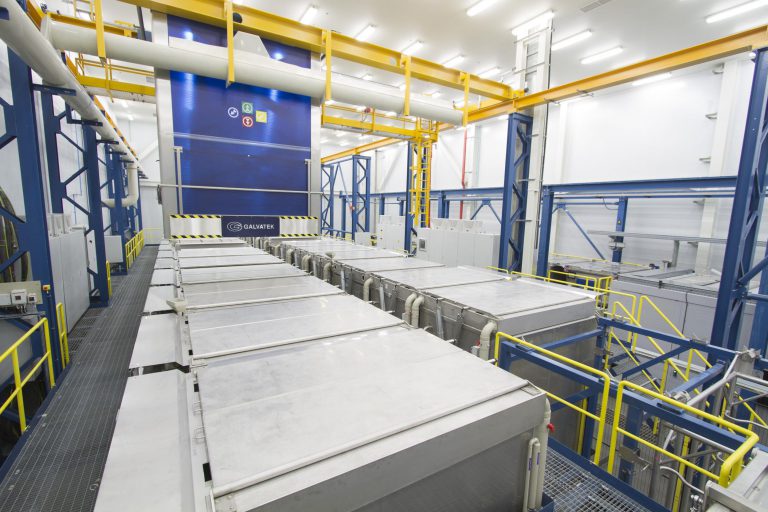 Chemical cleaning line for aviation industry with multiple row of tanks and one transporter for all stations.
Typical products for chemical cleaning
Chemical cleaning lines are used in the aviation industry for MRO of twin-aisle, single-aisle and regional aircrafts, rotocrafts and military aircrafts. Cleaning of aero engines includes turbofan and geared turbofan engines, jet engines, helicopter & turbo prop engine and other smaller engine types. Chemical cleaning lines are also used for various parts like blades and other specific components, including titanium or nickel parts.
Typical chemical cleaning line
All John Cockerill chemical cleaning plants are tailor-made for customer needs. A typical plant consists of stainless-steel tanks, automated transporter, hot and cold rinses with spray rinse system, walk-in spray cabin, and dryer. Process and production are automated. Process ventilation takes care of toxic fumes. Non-destructive testing and wastewater treatment can be integrated to the delivery scope if necessary. Typical John Cockerill chemical cleaning line has 1–3 lines of tanks and automated processes with possibility to manual intervention.
Key solutions: Process ventilation
Chemical cleaning lines use strong acids that remove the material from the surface of components. As a result, occupational safety and environmental protection must be prioritized when using these chemicals.
John Cockerill process ventilation is an innovation that has been developed by Galvatek to effectively extract vapors from chemical tanks. It eliminates the need for plant operators to wear special safety gear and prevents damage to the plant structure and ventilation system from corrosive vapors.
Process ventilation can reduce heating/cooling costs by up to 90 percent compared to traditional ventilation systems.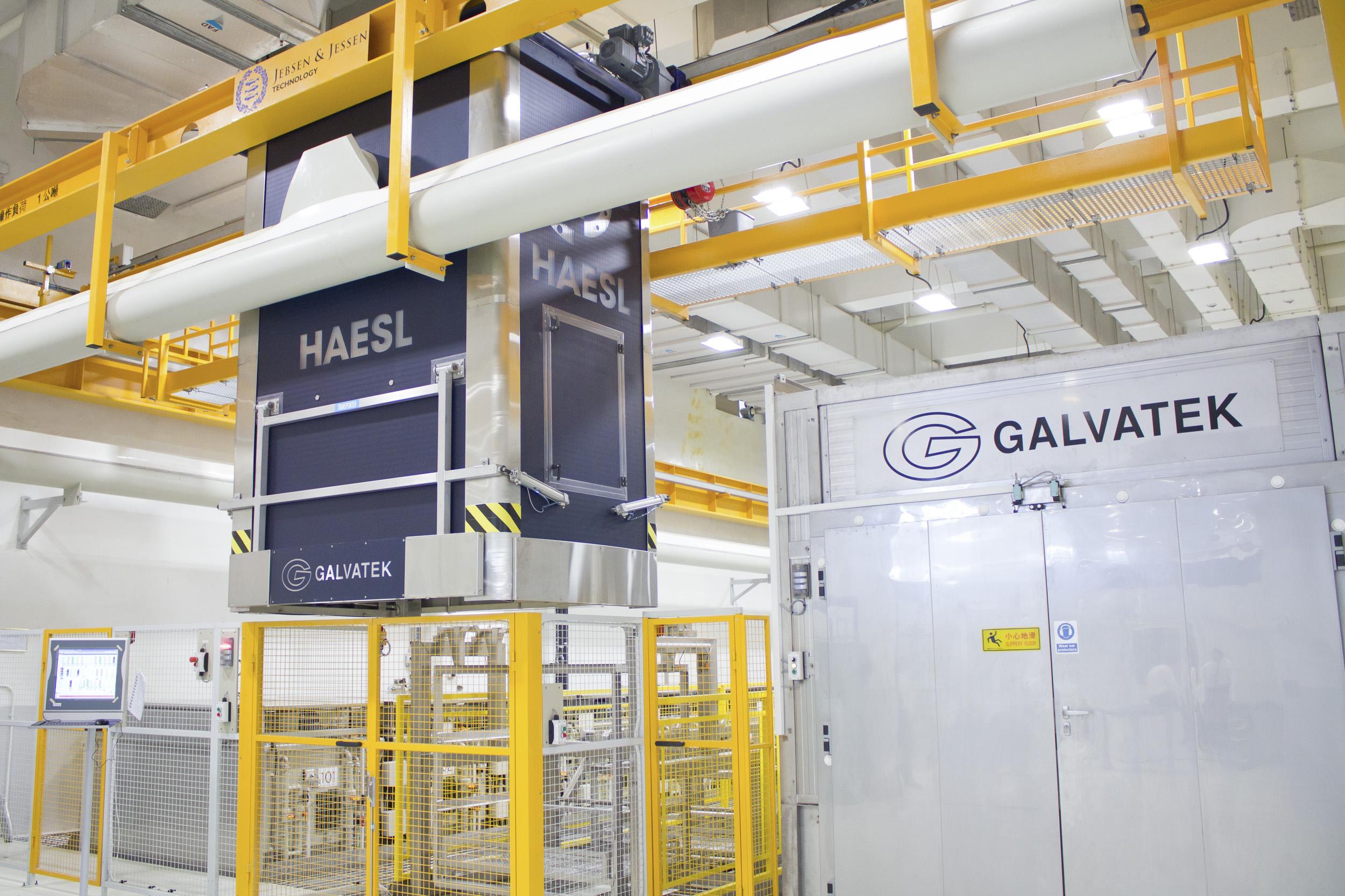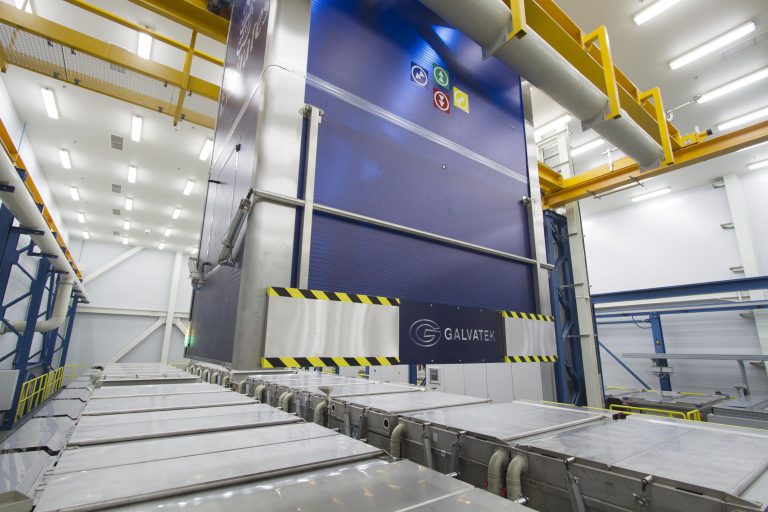 Chemical cleaning line with 3D transporter, which allows extremely flexible production process.
Key solution: Improved rinsing
The spray rinse system improves rinsing quality while reducing wastewater volume. In John Cockerill´s rinsing system all treatments can share the same rinsing system, consisting of spray rinse, cold rinse, and hot rinse steps. Instead of numerous individual rinse tanks for each process chemical, you need only three rinse tanks to run any treatment process.
Rinse water can be effectively reused throughout the three steps, reducing overall water consumption dramatically. Rinsing water quality can be adjusted automatically via set parameters and production volume. Galvatek innovated a spray rinse system already in the 1990s.
Key solution: 3D transporter system
By using our innovative 3D transporter design, we are able to combine multiple cleaning lines into one single system – operated by one transporter capable of handling all lines. This enables us to actually share stations between lines, e.g. common drying and loading/unloading stations. Overall optimization leads to fewer tanks, a more economical line footprint, and fewer items for maintenance. No need to have multiple overlapping stations or separate cross transporters between the tank rows.
Process automation system automatically optimizes the movements of the transporter system, which can move between any station freely. The system automatically selects the order in which loaded baskets are treated in the line, leaving for the operator only the loading/unloading of baskets. Multiple different treatment programs can be run simultaneously with ease. The system takes care of all material handling automatically in the best optimal order, which ensures maximum capacity for the line.