Surface treatment plants for the aviation industry
John Cockerill is the only supplier in the world to have reliably delivered fully automated chemical surface treatment plants to the aviation industry for three decades. Cost savings, traceability and minimizing human errors are some of the key features in a modern John Cockerill surface treatment plant.
Customized solutions for surface treatment
Practically all surface treatment plant applications for the aviation industry are unique. This is why we've specialized in consulting our customers to supply the best possible solution for each need. John Cockerill's range of aviation industry solutions cover everything from aircraft and turbine manufacturing and maintenance to aviation parts cleaning.

Aero Engine Overhaul
Cleaning of turbine jet engines and auxiliary power units in MRO operations is done effectively with John Cockerill´s chemical cleaning plants. We have delivered chemical cleaning plants to all major engine types like RR, P&W, GE, and others over several decades.

Aerostructures Manufacturing
Aircraft manufacturers utilize mostly our anodizing and phosphating plants. These facilities can handle even the largest structures related to aircraft fuselage and wings.

Turbine Blade Manufacturing
Turbine blade manufacturing requires surface treatment processes like chemical cleaning, chemical milling, and etching of blades.

Aero Component manufacturing
NADCAP and other certifications are critical when manufacturing landing gears, nozzles, electrics, and other aerospace components. Reporting chemical and electrolytic processes is easy with John Cockerill process automation.
John Cockerill surface treatment workshops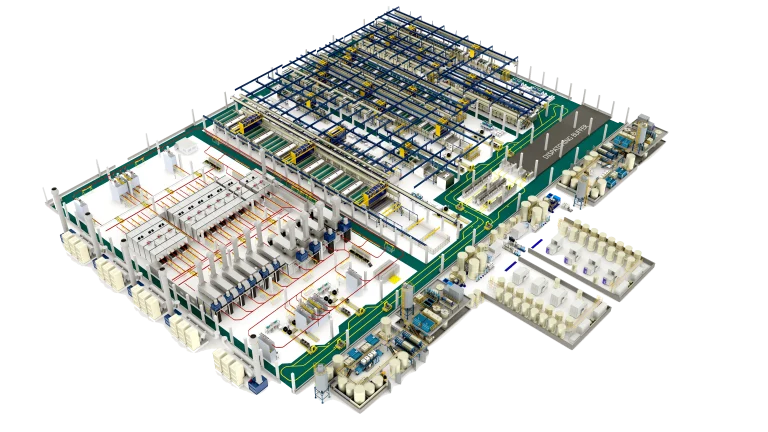 Surface treatment workshops
We participate in the planning of the entire project, offering services from the beginning to the end – from planning, to the delivery of the equipment itself, and all the way to the commissioning of the plant. We deliver full-scale workshops as greenfield projects including wastewater treatment, NDT inspection, painting, and other facilities.
Surface treatment lines for aviation MRO
Automated plants to ensure traceability
John Cockerill chemical surface treatment plant gives you the tools you need to ensure the high quality of your products. Thanks to our automation system all process treatments can be traced back to a single item even over a long period of time as needed by the NADCAP certification. The Galcont process control systems run on industrial quality computers and makes no mistakes. Total human free control over the process parameters and sequences. Minimized human errors result in better overall quality, a boost in your quality control and an increase in your productivity.
Industry leading experience globally
John Cockerill is the only supplier in the world to have reliably delivered fully automated chemical cleaning plants to the aviation industry for three decades, our history trailing back to early 1980's. Today, our plant offering in the aviation industry has significantly broadened from those days, and can be divided to two main segments: MRO (Maintenance, Repair and Overhaul) and Manufacturing of aircraft components.