Products for the energy industry
In the energy sector John Cockerill Surface Treatment focuses on nickel plating needed in manufacturing of electrolysers, stripping lines for gas turbine maintenance and waste water treatment for flue gas desulfurization plants, where we are one of the leading technology companies in the world.
John Cockerill Surface Treatment has a long experience of building large-scale and high capacity wastewater treatment units for fluid gas desulphurization plants. Another segment that we specialize in, offering a one-stop shop model, is stripping plants used in gas turbine MRO, combined with NDT (FPI systems) and wastewater treatment plants.

Stripping of Gas Turbine Blades
Acid stripping lines to remove thermal coatings of turbibe blades during maintenance of gas turbines.

Nickel Plating of bi-polar plates
Nickel and platinium plating lines for the surface treatment of bipolar plates and electrodes on H2 electrolysers.

Platinum Plating of Electrolyser plates
Careful platinum plating boosts the performance of hydrogen electrolyzer plates. Ask for John Cockerill´s unique solution.

Waste Water Treatment for FGDP
Galvatek's wastewater treatment plant solutions for power plant applications are typically part of the flue gas cleaning systems of coal-fired power plants, but also in biomass power plants.
John Cockerill surface treatment workshops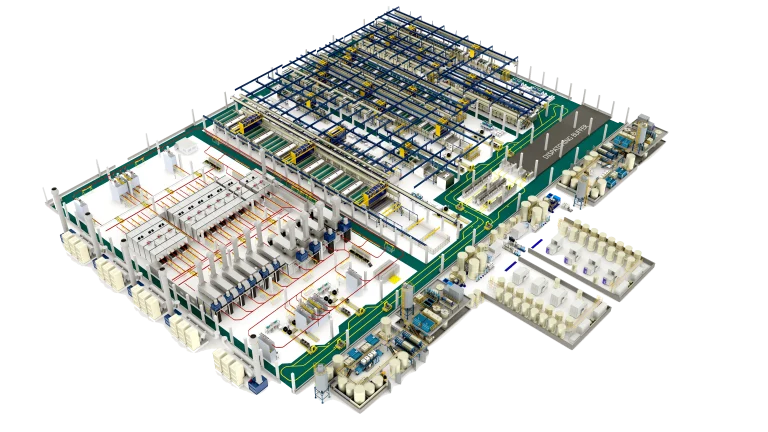 Surface treatment workshops
We participate in the planning of the entire project, offering services from the beginning to the end – from planning, to the delivery of the equipment itself, and all the way to the commissioning of the plant. We deliver full-scale workshops as greenfield projects including wastewater treatment, NDT inspection, painting, and other facilities.
Plants for the energy industry
Unique conditions and material requirements
In gas turbine MRO, stripping plants ventilation solutions and material selections are of high importance. The use of HCL and other highly corrosive chemicals set special requirements for equipment and components. John Cockerill is experienced in engineering plant solutions to meet these needs.
Environment, health and safety emphasised
Because of our own technology, John Cockerill's solutions for energy industry are always built to meet the environmental, health and safety requirements. The key is in automation, which means minimum human involvement is necessary in hazardous processes.