Industrial Etching Plants
Design, supply, and installation of industrial acid etching plants for aviation and other industries
Our industrial etching solutions is dedicated to etching of different blades and vanes, and is used in the aerospace manufacturing and testing. John Cockerill has over 40 years of experience in delivering surface treatment plants to the aviation industry worldwide. Our plants have been used by major OEMs. We deliver complete plant projects, from planning and designing all the way to installation and start-up.
Typical etching process
Industrial metal etching (chemical milling) is a manufacturing method for metals that uses acid baths to subtract material and create the desired shape. Typically, the industrial metal etching process involves five steps: cleaning, masking, scribing, etching and demasking. Industrial metal etching is used in the aerospace industry for manufacturing complex aerospace components. Industrial metal etching systems are used when mechanical machining is not an option and the metal removal and finish have to be uniform.
Aluminium etch is a process by which a thin layer of the surface is removed, prior to penetrant inspection. Penetrant used is typically caustic or alkaline baths or solutions. Aluminium etching enhances the identification of surface defects before further processing.
Titanium etching involves the chemical milling of titanium alloys and is widely used in the aerospace industry. Titanium is often etched during the manufacturing process or prior to non-destructive testing using a variety of different acids, commonly hydrofluoric and/or nitric acid. Galvatek's industrial etching plants offer automated temperature and
process control, effective ventilation and occupational safety that are vital in titanium etching operations.
Macro etching, also referred to as deep etching or chemical etching, is a procedure for revealing the large-scale structure of a metallic specimen, i.e. the structure visible with the unaided eye, by etching an appropriately prepared surface. Macro etching is typically used to study welded, machined or heat-treated components, especially nickel-based alloys, steel or titanium. Typical components include critical rotating parts, such as fan and compressor blades, shafts and discs
Blue etch anodizing (BEA) is a highly sensitive, non-destructive testing (NDT) technique that is used to detect surface discontinuities, such as folds, cracks, material segregation, overheating, and abnormalities caused by machining. Blue etch anodizing plants are used in the aerospace and energy industries to check gas turbine blades and other critical components.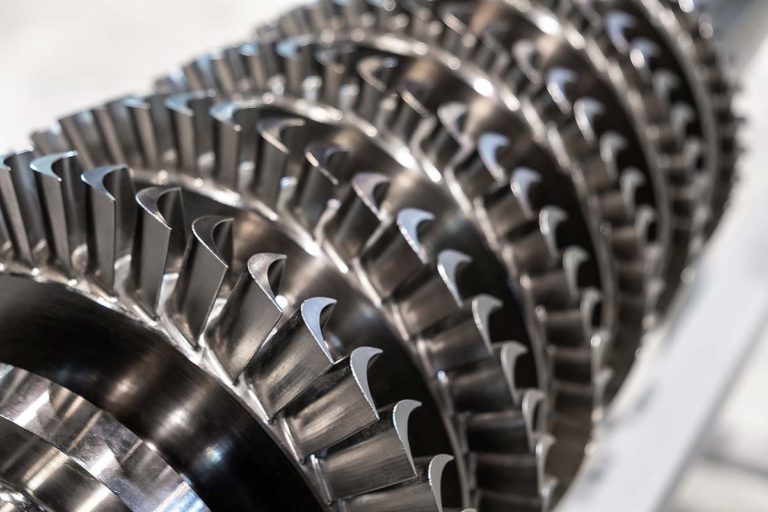 Typical products for industrial etching
Typical parts include blades, fan discs, compressors, HP / IP turbine discs, rim / full cover plates and various other parts. Titanium etching is also used for surface treatment of medical supplies. Alkaline etching is widely used in manufacturing of aluminium processing industry.
We deliver plants that are ready to use and ensure their operations even after delivery. The plants are typically so-called Compact Lines. Plants have 1–2 m3 tanks. Compact etching plants are designed to fit a standard sea container for easy transport. They are preassembled in the EU and delivered to site.
Key solutions: Process ventilation
Typical process includes use of stong acids (sulphuric acid, nitric acid, hydrochloric acid, hydrofluoric acid and fluorosilicic acid).
Etching plants use extremely strong acids that corrode material from the surface of components. As a result, occupational safety and environmental protection must be prioritised when using these chemicals.
John Cockerill process ventilation is an innovation that has been developed by Galvatek to effectively extract vapours from chemical tanks. It eliminates the need for plant operators to wear special safety gear and prevents damage to the plant structure and ventilation system from corrosive vapours.
Process ventilation can reduce heating/cooling costs by up to 90 percent compared to traditional ventilation systems.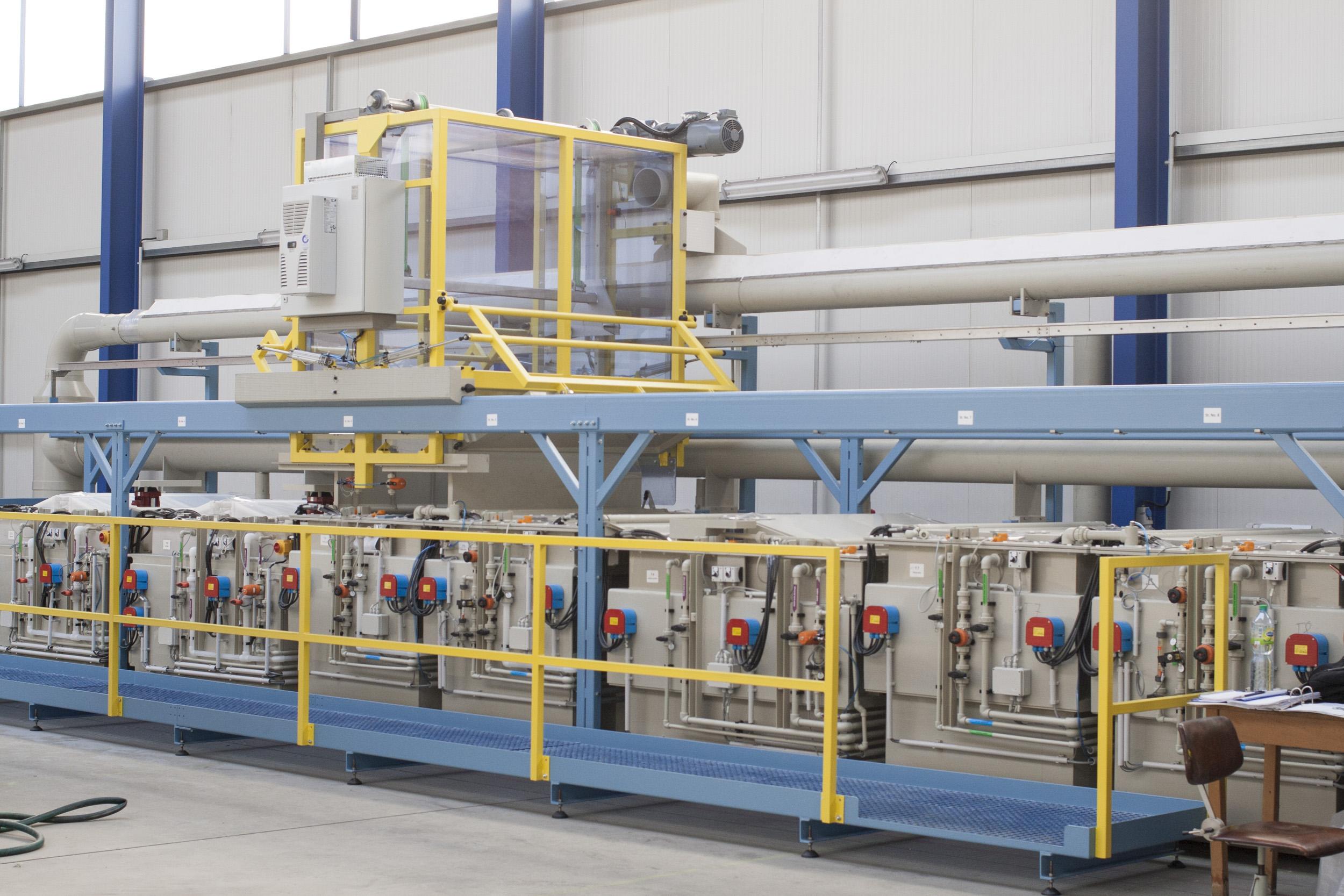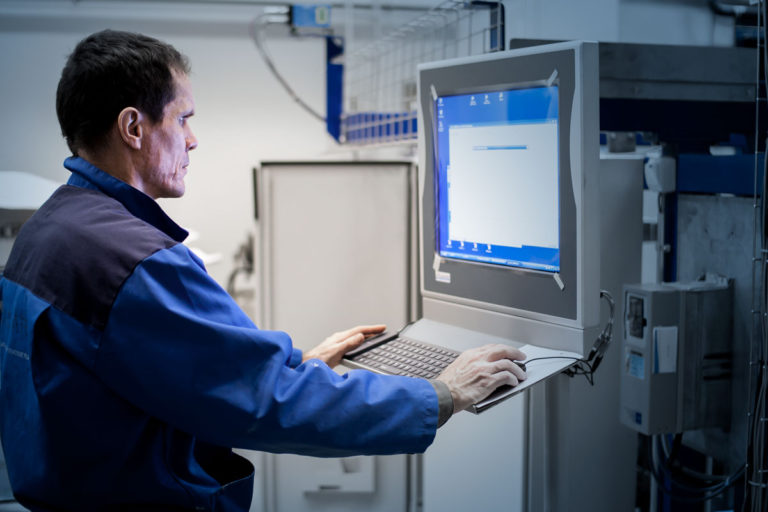 Key solutions: Process automation
Automation is used to keep operators away from the dangerous chemicals, with automated material handling but also automated chemical dosing.
John Cockerill Surface Treatment chemical milling plants have an extremely high level of automation. The automated systems cover both process control and production control by constantly monitoring and adjusting chemical processes while also controlling material handling. As a result, payroll expenses can be reduced by up to 70 percent compared to manually operated plants. Automated plants are also much safer than manually operated plants.