Automotive
John Cockerill is a leading supplier of surface treatment plants for the automotive industry. Especially our French company CMI Sleti has been serving the European automotive industry for decades. Our portfolio includes practically all types of surface treatment plants used in the automotive industry.
Solutions for the automotive industry
The automotive industry manufactures extremely finished high-quality products in huge volumes. These kinds of operations require surface treatment plants of high capacity, constant quality, automation, and excellent uptime. John Cockerill surface treatment plants are top of the industry considering energy efficiency. Energy efficiency, automation, and high uptime make running John Cockerill surface treatment plants economical and efficient.

Car chassis
Anti-corrosion treatments for entire car chassis have become common during the last decades. John Cockerill surface treatment plants can handle all the major processes like zinc phosphating, E-coating, galvanizing or anodizing for materials including steel and aluminium.

Car body panels
Car body panels require surface treatment processes like E-coating for mixed materials. A selected surface treatment process can enhance the lifetime or decorative finish of the component.

Suspension systems
Heat-treated suspension springs need different surface treatments compared to other components. Chemical cleaning and many types of metal plating are typical processes for car suspension systems.

Electrical systems
Electrical systems in the automotive industry typically exploit processes like tin or silver plating for electronic components and connectors. The electrification of cars has increased the demand for these plants.
John Cockerill surface treatment workshops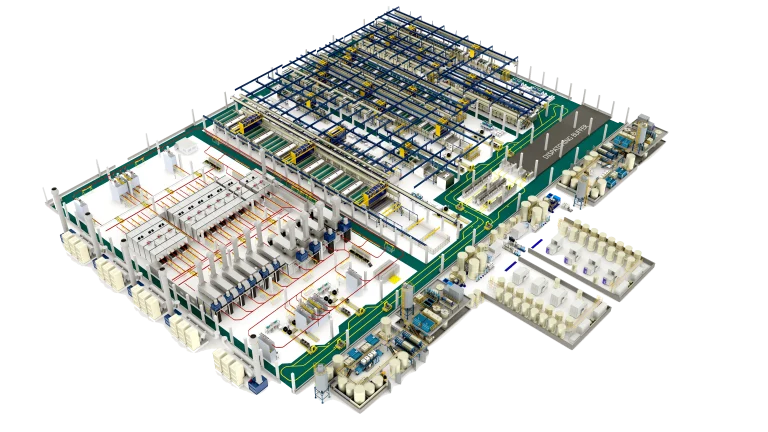 Surface treatment workshops
We participate in the planning of the entire project, offering services from the beginning to the end – from planning, to the delivery of the equipment itself, and all the way to the commissioning of the plant. We deliver full-scale workshops as greenfield projects including wastewater treatment, NDT inspection, painting, and other facilities.
Surface treatment lines for automotive
Environment, health, and safety emphasized
Because of our own technology, John Cockerill's solutions for the automotive industry are always built to meet environmental, health, and safety requirements. The key is in automation, which means minimum human involvement is necessary for hazardous processes.
Automated plants to increase volume and efficiency
John Cockerill chemical surface treatment plant gives you the tools you need to ensure the constant quality of your products and the high output of the plant. Thanks to our automation system all process treatments can be traced back to a single item even over a long period of time. The process control systems run on industrial-quality computers and make no mistakes over the process parameters and sequences. Minimized human errors result in better overall quality and an increase in your productivity.