The design, manufacturing, supply, and installation of automated aluminum anodizing lines
John Cockerill has been supplying automated anodizing plants mainly to the aviation and aluminum industries for over 40 years. Our systems are used by the biggest manufacturers like Airbus and Boeing.
It is easy to fulfill the Nadcap and other strict aviation requirements with John Cockerill's large, automated plants. We offer complete projects from planning and designing all the way to start-up and service during operations.
Typical anodizing processes
Anodizing is an electrolytic process that is used to increase the thickness of the natural oxide layer on the surface of metal parts. Aluminum alloys are anodized to increase corrosion resistance and surface hardness, as well as to improve the adhesion and bonding of materials in further processes. The decorative electrolytic coloring process can also be applied for architectural, decorative, industrial, and aerospace applications.
Tartaric sulphuric acid (TSA) anodizing provides excellent corrosion protection and paint bonding properties for a wide range of aluminum alloys. TSA anodizing can be used to replace the use of hexavalent chromium in chromic acid anodizing (CAA) processes. TSA anodizing is an approved method that complies with European Union REACH legislation. Further information about TSA anodizing is available on the Airbus website.
Boric acid anodizing (also referred to as boric sulphuric anodizing) is an environmentally friendly alternative to chromic acid anodizing. BAA creates a suitable surface for paint adhesion and corrosion prevention. BAA does not change the dimensions of the treated parts and is often used in the aerospace industry for precision parts and tight tolerance assemblies.
Chromic acid anodizing (CAA) was the first commercial type of anodizing and is still widely used in aerospace and defense applications. CAA is compatible with many aluminum alloys. CAA does not change the dimension of the parts, which makes it ideal for tight tolerance assemblies. CAA coating is also non-conductive. Aluminum parts with CAA coating are typically used for finished surfaces, as a base for painting, or together with hard coat anodizing (see below).
Sulphuric acid anodizing is the most widely used type of anodizing. The SAA process creates only moderate corrosion resistance for the surface, making it ideal for decorative applications. A wide selection of dyes is available to create different colors for the sulphuric acid film before sealing. The color of the dyed SAA aluminum is long-lasting, even in direct sunlight. SAA is often used for architectural extrusions and sheets, electronic components and devices, and other hardware.
Hardcoat anodizing is used to achieve a hard coating that is resistant to abrasion. The coating is harder than tool steel and therefore highly suitable for aluminum components subject to extreme mechanical wear or corrosive environments. The color of the hard-coated aluminum is dark or black and it cannot be dyed. The hard coating also increases the dimensions of the treated part.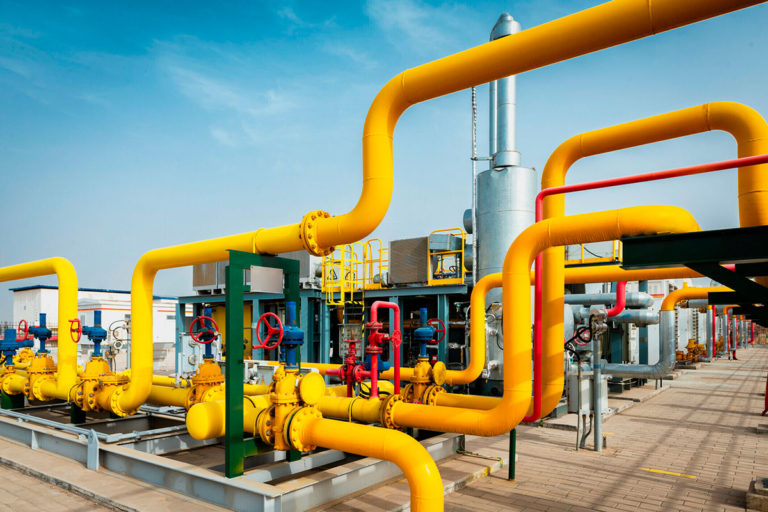 Typical products for anodizing
In the aviation industry, automated aluminum surface treatment plants are used for the chemical treatment of challenging aircraft parts and frame components. Aluminum anodizing plants can also be combined with etching, cleaning and non-destructive testing (NDT) processes. In the aluminum industry, the process often also includes electro-coloring for the production of aluminum profiles and components. Hard anodizing plants can be used for producing valves, pistons, gears, joints, and other sliding parts.
John Cockerill aluminum finishing plants are typically fully automated turnkey deliveries that utilize our latest technologies in ventilation, multiple loading/unloading stations, and energy-efficient solutions. John Cockerill anodizing plants are always scaled and designed according to the needs of the customer and the maximum product dimensions in the treatment process. Galvatek has delivered tanks up to 15 meters in length, especially for aerostructure applications. Typically, the tank length is 3–8 meters for aluminum profiles or other anodized aluminum components. A typical configuration has 1 or 2 tank rows, very high capacity, optimized running costs, and long buffer areas for unmanned production. Rinsing options are 2-3 step cascade rinsing, spray rinsing or recycled rinsing, and so-called low-flow rate rinsing. Plants are manufactured in the EU and assembled on the client's site.
Process Automation
Process automation keeps workers away from dangerous chemicals, keeps the quality consistent, helps to report to meet the aviation standards like NADCAP, and enhances process line high efficiency.
John Cockerill Surface Treatment chemical milling plants have an extremely high level of automation. The automated systems cover both process control and production control by constantly monitoring and adjusting chemical processes while also controlling material handling. As a result, payroll expenses can be reduced by up to 70 percent compared to manually operated plants. Automated plants are also much safer to operate than manually operated plants.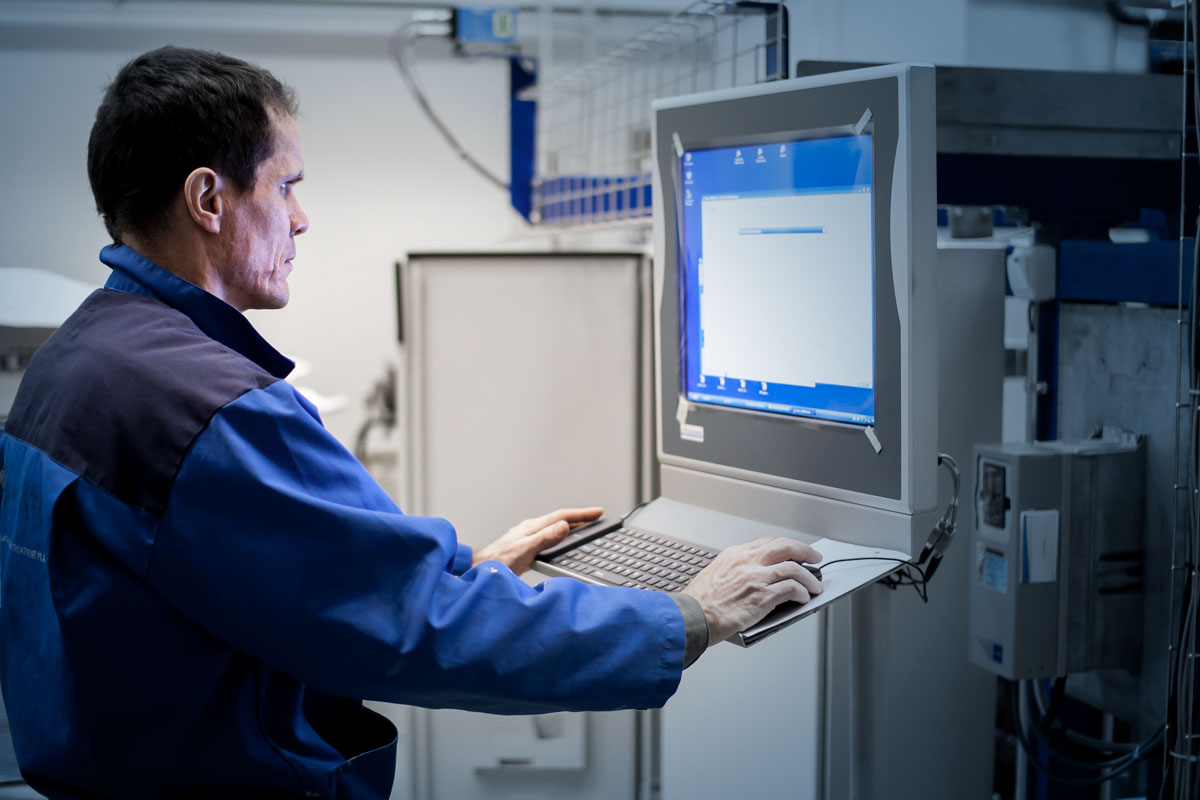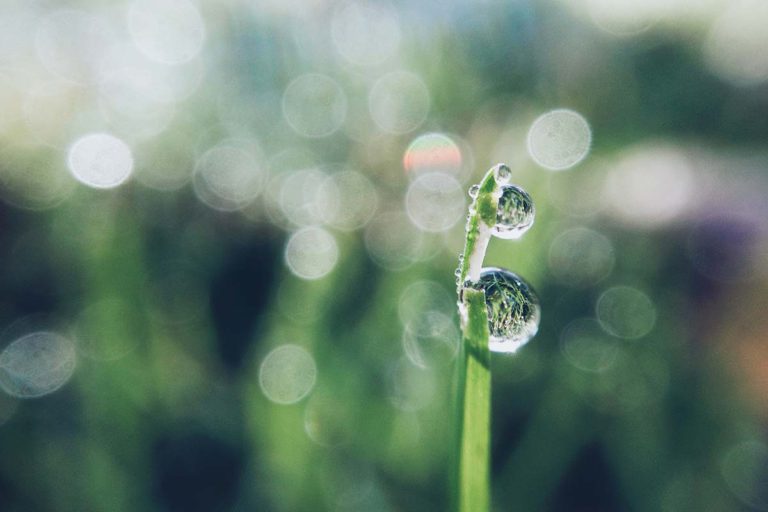 Energy efficiency and environmental friendliness
Every aspect of our plants has been optimized with energy efficiency and environmental friendliness in mind. For example, our closed-circuit evaporation plants produce minimal or no emissions in addition to being tailored to our customers' needs.
Galvatek's meticulous design and production process lengthens the life of the plants even further and minimizes the lifetime running costs. The customer can foresee a lifetime of several decades for our drive motors and lifting motors, for example.
Lower electricity consumption
Minimal or no emissions
Optimized durability thanks to the best components and precision manufacturing