Final Acceptance of an automated Fluorescent Penetrant Insperction installation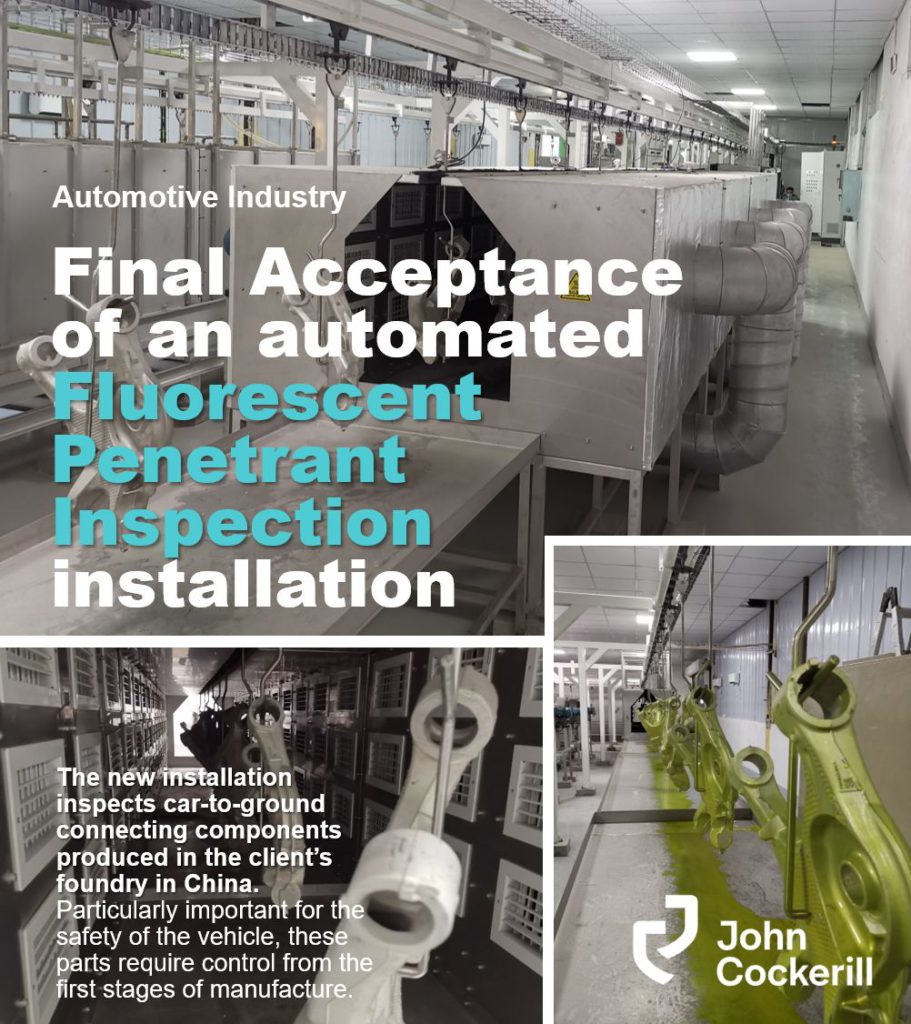 Last year an internationally renowned automotive Tier 1 & 2 supplier ordered an automated electrostatic Fluorescent Penetrant Inspection installation from John Cockerill for one of its Chinese plants that produces automotive brakes, chassis and turbo aluminum parts.
Our Group's SurfaceTreatment Division's Chinese and French entities, Cockerill Tempro and Sleti have worked hand in hand on this project and have been able to complete the commissioning to the full satisfaction of the client, despite the current health context. Not at last, by having had recourse to modern remote commissioning and communication tools, that proved particularly relevant for the sharing of the process and commissioning know-how of our French experts with our Chinese colleagues.
Headquartered in France, the client is an emblematic figure in the automotive industry. Present in China for the past 20 years the French group is servicing the Chinese automobile market and catering to the local needs of its Asian automotive clients out of its Chinese locations.
The fully recyclable, light and corrosion-resistant aluminum parts supplied by this client are to help carmakers reduce the vehicle weight resulting in fuel economy and lower CO2 emissions. This is also true for the electric and hybrid-electric vehicles that are increasingly working their way into our world. The fully commissioned new installation inspects car-to-ground connecting components. Particularly important for the safety of the vehicle, these foundry parts require control from the first stages of manufacture. The automated and comprehensive inspection of the produced light-metal Al parts, enables the client to ensure the impeccable Quality of each individual component. A mandatory requirement for many car manufacturers in China, as well as in the rest of the world.
For the client, the new installation is a non-neglectable added value for its further expansion in this fast-growing region, and for John Cockerill it is yet another valuable contribution to a more sustainable industry.